In the News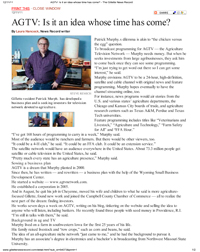 About The Agriculture Television Network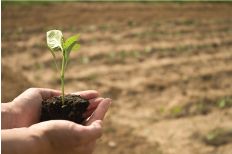 Hello I am Patrick Murphy, thanks for giving me some of your time today.

Television, seems like there is a channel or program for almost everyone. We all have our favorites and occasionally look for variety.

What about a dedicated channel of original programming for agriculture? The company is Agriculture Television, the producer and provider of original programming focused on agriculture. By originating the shows Agriculture Television establishes and maintains the highest quality of content for the audience and a new market for advertisers. Original show opportunities are as vast as agriculture. Watch a show via the Programs Tab.
---
Our Programs
4-H Hour
Agriculture Across America
Agriculture and Government
Agriculture and Technology
AGTV Classroom
AGTV Evening News
AGTV Morning
AGTV Noon Edition
Agriculture Season
American Farm Bureau
Auction Time
Bovine: Love of Cattle
Century Agriculture
Down Home Cooking
Expositions/Ag Shows
Engineering: Agriculture Style
Equine: Love of Horses
Farm Progress Show
Farm Safety for All
FFA Hour
Food Safety
Grains
It's County Fair Time
Market Update
The Produce Industry
Producer of the Month
State Agriculture
State Fair
Swine: Love of Hogs
The Year in Agriculture
Turf
USDA Feature
Veterinarians and Livestock
Weather Update
Your Extension Service
All rights reserved Programming subject to change without notice Copyright 2005-2012 Agriculture Television